I love what cloud software has done to revolutionise the accounting industry and Xero has been at the forefront of that. I've been lucky enough to work with this beautiful software since 2013 so have seen a lot of changes and massive improvements in its capabilities over that time. Over the next few weeks, I'm going to share some of the features my clients and I love the most, starting with these!
Bank Reconciliation
It's fair to say this is not normally a business owner's favourite job but Xero takes the pain away and actually makes it enjoyable!
Automatic matching of purchase and sales invoices saves so much time as there's no need to post the transaction separately, match it and then reconcile it. Then there are also bank rules, auto-suggest, transfers and creating transactions all in one screen! You can even reconcile on the Xero app if you have a spare minute while out and about.
Customer Statements
As your bank is so easy to keep up to date, you know exactly how much money customers owe you at all times. If someone is showing as having an overdue invoice, all you have to do is press send a statement, select the client and press email. That's it, done! No more endless printing out of statements, taking out the ones which are incorrect and then putting them in an envelope to post!
Invoicing
So many good things to say about the invoicing process but in a nutshell, all you have to do is add your logo and payment terms and your template is sorted. Once you've entered the dates and details for the invoice, just email it straight to the client, even from your phone. If you want an easy way for customers to pay, add a 'pay now' button to the invoice, link it to Paypal, Stripe or one of the other payment services and get paid sooner! If you send the same invoice to lots of people, put them in a group and invoice everyone in the same group at the same time. If you send the same invoice each week/month/year, just set up a repeating invoice and it will be automatically generated each time for you to check.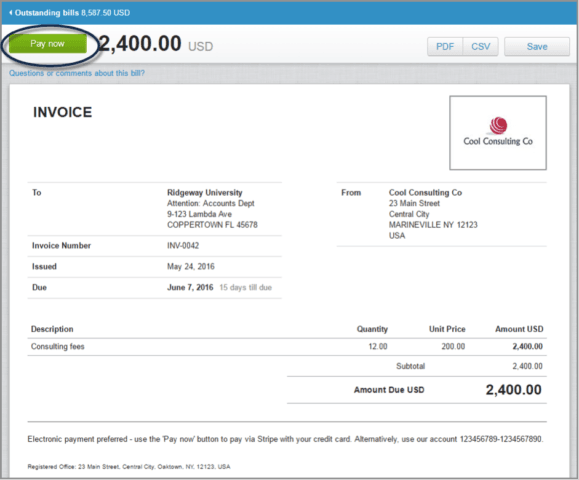 Filing
Hate filing purchase invoices in loads of files and keeping them for 7 years? Just store them in Xero! Forward purchase invoices you receive on email straight into the software for you to post, or upload any you've scanned in, then you can throw away the paper copy. HMRC has confirmed that digital copies are suitable accounting records and you can usually retrieve them quicker than paper copies if needed. And if you want to take it a step further and don't want to enter the purchase invoice yourself, you can even get an app to do it for you!
These are just some of the best bits of this great piece of software. I will share some more of my favourites soon but if you would like a free Xero demo, please get in touch!
And just one more thing – Xero is on HMRC's list of approved software for Making Tax Digital!